I continue the series on Romans 8 entitled, Five Words That Can Change Your Life. We'll focus on five words that provide five themes for this chapter: freed (1-8), empowered (9-11), adopted (12-17), transformed (18-30), and loved (31-38).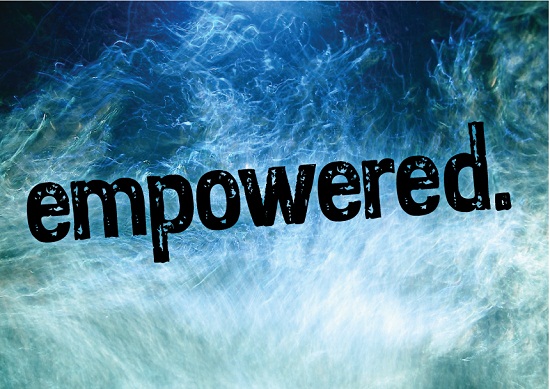 Today, we discuss how we are Empowered. The dictionary defines the word like this: to give power or authority to; authorize, especially by legal means; to enable or permit. Through Christ's death on the cross and the indwelling power of Holy Spirit, Christians are empowered by God. 
How? Romans 8:9-11 helps answer that question.
1. I am indwelled by the Holy Spirit: 9a, 11
Remember Romans 8:1? Through Christ we have been set free from the condemnation of sin. And as a result we are now indwelled by the Holy Spirit.
This brings God's presence: 9a
Romans 8:9 says, "But you are not in the flesh but in the Spirit, if indeed the Spirit of God dwells in you." The word "dwell" here is from the same Greek word used for "house" or "home." The child of God is a dwelling place for the Spirit of God. Is the Holy Spirit at home within you?
Through Christ we have been transformed completely and translated into a brand new dimension. We are no longer of the flesh, we are now of the Spirit. We are no longer in darkness, we are in the light. We are no longer in bondage, we are free. We are no longer dead, we are alive. The evidence of conversion is the presence of the Holy Spirit within you.
This brings God's power: 11
At the point of salvation we are filled and indwelled with the Spirit.  Each day as we walk with Christ, crucify the flesh, and live in the Spirit we experience in greater depths the power of God in our lives.
The same power that raised Christ from the dead dwells within you. So what's your excuse? Do you have power over sin? Do you have courage to share your faith? Do you have victory over trials and troubles? Yes! There is power in the Spirit of God who indwells you.
2. I am identified with Christ: 9b, 10
The latter part of Romans 8:9 says, "Now if anyone does not have the Spirit of Christ, he is not His." Belonging to God has to do with identifying with Christ. It's not just saying you believe, but trusting Him by faith and living for Him.There should be evidence in our lives that we belong to Jesus. And that evidence should be obvious.
What does it mean to be identified with Christ? There is a deep theological significance here. Being identified with Christ means that we are now dead to sin and alive to righteousness. We are dead to self and alive to Christ. The old man is gone and the new has come.
Being identified with Christ means repenting of sin and receiving His righteousness. This is the great exchange that occurs at the point of salvation. God forgives the sinner because all of God's wrath against sin has been poured out on Christ. And God imputes the perfect righteousness of Christ to the account of the believer.
This is why you can live with power. You are identified with Christ. "Your life is hidden with Christ in God" and you are indwelled by the Holy Spirit. You are empowered…so there's no excuse to be living a powerless life.