This post will conclude our series in Romans 8 entitled Five Words That Can Change Your Life. Here are the five words again: freed (1-8), empowered (9-11), adopted (12-17), transformed (18-30), and loved (31-39).
The theme of God's unfailing love is woven throughout the entire Bible. It is written on every page and every line. And in Romans 8:31-39 we see one of the most profound passages in the Bible regarding God's love.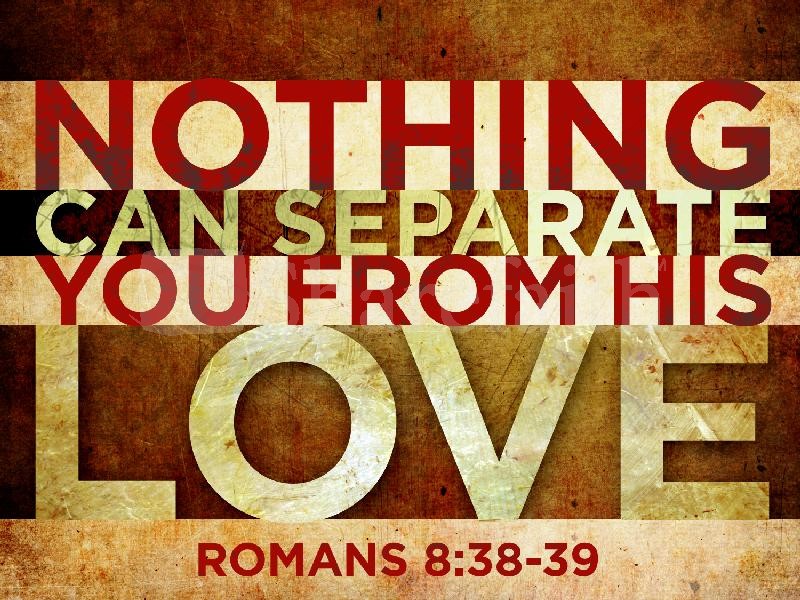 In this post, we will talk about the word, Loved from Romans 8:31-39. There should never be any doubt about God's love for you. As Christians, we are secure in the love of Christ.
1. If God is for us, who can be against us? Answer: NO ONE! – 31-34
Now, this is not the first question that Paul asks in this passage. In fact, it comes after this one: "What shall we say to these things?" What "things?" The fact that we are freed, empowered, adopted and transformed.  What can we say about that? We say, thank you! And Paul answers a question with another question, "If God is for us, who can be against us?" Here's my kids' favorite question – why?
a) You are paid for: 31-33
What does that mean? The Bible says that the wages of sin is death. What we earn as a result of our rebellion against God is death. That's a debt we owe. But on the cross, Christ paid our debt. Not only did He satisfy the wrath of God, but He imputed righteousness to our account. Our debt has been paid.
Paul asks another question – "Who shall bring a charge against God's elect?" Satan is the great accuser. He is the prosecuting attorney. But there is no charge that He can bring up against the believer because our debt has been paid and our slate has been wiped clean.
Paul asks another question – "Who is he who condemns?" Now remember, God is the judge of all. He has the right to accept or condemn. But God will no longer condemn us based upon Christ perfect, substitutionary, atoning sacrifice upon the cross. "It is Christ who died, and furthermore is also risen…"
b) You are prayed for: 34
Christ is the Mediator between God and man. As our High Priest, He can give us the grace we need to overcome temptation and defeat the enemy (Heb. 4:14–16). As our Advocate, He can forgive our sins and restore our fellowship with God (1 John 1:9–2:2). Intercession means that Jesus Christ represents us before the throne of God and we do not have to represent ourselves.
2. What can separate us from the love of Christ? Answer: NOTHING! – 35-39
In the first part of this passage, Paul proves that God cannot fail us.  He will never let you down. But what if we fail Him? What if we succumb to temptation and fail? Will He stop loving us? Here, Paul reassures us that nothing can separate us from the love of God.
He lists several things that we might think shows we are separated from the love of God. But in each instance, God is faithful and His love never fails.
a) Sorrow? 35a
"Shall tribulation, or distress, or famine, or nakedness…?" Will sorrow separate us from God's love? There may be times we go through trials, trouble, pain and sorrow. But does this mean that God does not love us? Absolutely not!
b) Sadness? 38a
"Neither death nor life…" Will sadness separate us from God's love? Not even sadness in life or the sadness of death can separate us from the love of God.
c) Suffering? 35b-36
"Persecution…peril…sword…" Will suffering separate me from God's love? When I am persecuted for my faith or face suffering for the Lord, does this mean I am no longer loved? Absolutely not! Not even suffering or persecution can separate us from God's love.
d) Struggle? 38b
"Nor angels nor principalities nor powers…" Paul moves from talking about the circumstances and problems of life to the spiritual struggle that believers will face. This is what he means when he refers to "principalities and powers." When we encounter problems and trials the enemy wants us to believe that we are not loved. In fact, he will whisper in your ear that God has forgotten you, abandoned you, disowned you.
But hear me clearly, no matter what the enemy wants you to believe, take heart. You are never outside the bounds of God's great love! In fact, God has empowered you to live and walk in victory through the Holy Spirit.
e) Schedule? 38c
"Nor things present, nor things to come…" Nothing on your schedule today or tomorrow that can keep you from the love of God. Is there any time when I am outside of God's love? Absolutely not! God loves you now, and He will love you forever!
f) Space? 39a
"Nor height nor depth, nor any other created thing…" No matter where you go, you cannot get past God's love.
The question is, do you know the boundless love of God? This is an amazing, incredible, indescribable love. But you have to experience it for yourself. It's not enough to know about it, you've got to know it in your heart. It is real!
Warren Wiersbe says, "A review of this wonderful chapter shows that the Christian is completely victorious. We are free from judgment because Christ died for us and we have His righteousness. We are free from defeat because Christ lives in us by His Spirit and we share His life. We are free from discouragement because Christ is coming for us and we shall share His glory. We are free from fear because Christ intercedes for us and we cannot be separated from His love. No condemnation! No obligation! No frustration! No separation! If God be for us, who can be against us!"